I love love love craft blogs. I love looking through others ideas and trying them. It is super fun to see how creative other people are. I can't to have kids because then i will have even more people to make things for. Here are some I love the mostest! Yes the MOSTEST!
Disney from "Ruffles and stuff" is probably my favorite. She makes all sort of cute stuff out of things she already owns. And she tells you step by step how to do it! It's great. She makes clothes and toys and jewelry and the list goes on and on. She also teaches you new sewing techniques! Check her out
here
Ashley from "Make it and Love it" has two kids and an adorable house she is constantly crafting for. She also introduces you to other crafters and Etsy shops! Her posts are really fun if you have kids or need ideas to use your scraps up! Check out her blog
here
Linds for "Thats so cuegly" (a new word meant to mean so ugly (unique) its cute) is great too. She gives all these beauty tips and shares neat tips. I love her pictures on her blog. She makes it look easy! Her blog is found
here
Another fun one is my cousin and aunts blog. They share things they make and its always cute. I love the ideas and it makes me want to try it! I love that they came up with a way to show off their crafts even though they are far away from each other. There blog can be found
HERE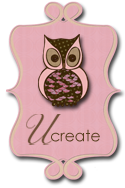 Kari from "UCreate" post ideas from others and things she makes too. They have guest bloggers. I love that she brings it all together so you can go to one blog to find so many great crafts! She links to other blogs and links tutorials too so it very easy to access Her blog is found
here
Finally I love "sisters stuff" They have cute household crafts and super yummy recipes! They are just to cute sisters out to inspire and teach others and help them be better homemakers! Their blog can be found
here
So if you are new to the "crafting blog stalking" world. You have to take a look at these blogs. I am thankful they share their ideas everyday. I have about 200 bookmarks on my computer of things i just need to try!